First-Class Florida Shark Tours
Join Florida's premier shark diving resource for an unforgettable eco-tour with some of nature's most impressive marine predators.
Respectful Florida Shark Tours
One of the most important aspects of our tours is respecting and doing good by the sharks that we work with. In large part, we run this business to show the world the true nature and importance of sharks.
The main goal after one of our shark tours is that guests leave the boat being newfound or reinforced believers and supporters of sharks! These animals are under tremendous threats and endangerment to their survival. By bringing thousands of people out to dive and see sharks in the wild, we hope we are doing our part to save and support sharks via our shark dive tours.
In terms of diving, Florida Shark Diving is internationally recognized as a benchmark of excellence in the shark diving world in terms of operational standards, business practices, longevity, customer service, and shark interaction.
During our dives, we take nothing more seriously than both our guests and the shark's safety. Our only goal is to promote the importance of sharks in the wild and showing our guests a world-class shark tour.
In addition to safe Florida shark tour protocols, Florida Shark Diving is committed to helping and protecting sharks in every avenue possible. We are constantly involved with numerous projects such as research studies, positive shark media content, school programs, independent projects, Make a Wish events, just to name a few!
We hope that you join us on the water for our Florida Shark tours so we can show you the truth about sharks on their turf in the wild and have you be able to lean on our past experience in all levels of shark tourism to give you the best trip possible.
Experienced Florida Shark Tours
Florida Shark Diving pioneered shark freediving and cage diving in Florida.
Since then we have had 10 years to perfect and custom-tailor our shark dive tours in order to maximize our guests' experience to the highest level possible.
Our crews are all seasoned with well over a hundred years of experience between our small and long term staff of divers.
We have calculated and figured out through trial and error the ways of the sharks in Florida, where they are at different times of the year, the best methods to attract them, how to keep them engaged with our guests for good encounters, and most importantly how to keep both the sharks and our guests safe during the entire encounter!
Our Florida Shark Tours have been crafted and designed after 10 years of on the water experience.
No other boat in the shark diving fleet in Florida has anywhere near the ocean time we do and it shows in the way we run our charters.
Our crew and our operation hold no greater pleasure than showing the people that step on our boat the ocean and its sharks at the highest possible level on our Florida shark tours.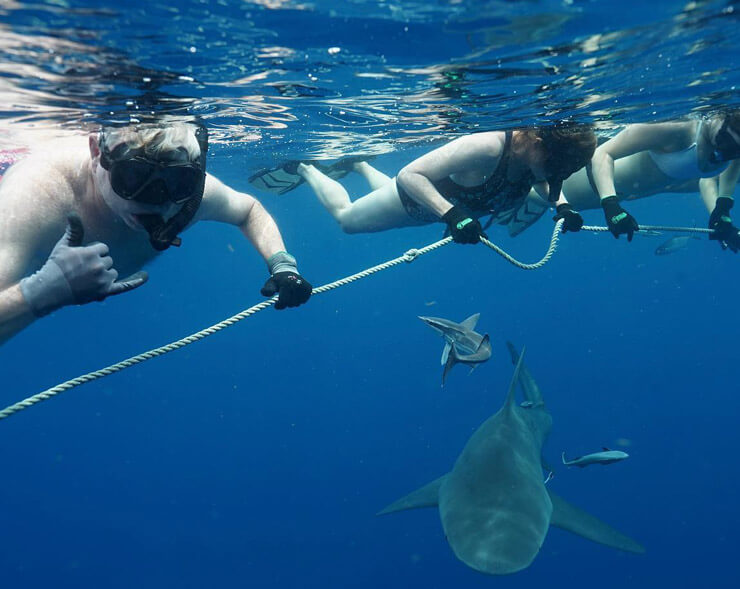 Bringing you up close and personal
You don't need to be scuba diving certified.
All dive equipment is provided in Med- XXL sizes along with Iced Water & Sports Drinks.
We are located at U-Tiki Beach Marina at the Address Below:
U-TIKI BEACH MARINA
1095 North A1A
Jupiter, FL
33477
Located just 30 minutes north of

Ft. Lauderdale
Located just an hour north of

MIAMI